63 Amazing Gifts for People with Dementia
The best gifts for people with dementia are the ones that bring them joy, foster independence, and support safety.
But, finding the perfect gift for someone living with dementia can be difficult. People with dementia lose their ability to remember things, reason and use logic, and live independently.
Buying them something they will appreciate can be a challenge. However, there are many great gifts out there that can bring joy to someone with dementia while at the same time supporting their abilities in a meaningful way.
Of course, it is important to take into consideration cognitive abilities, safety, and individual interests. In this blog post, we will discuss some of the best gifts for a person living with dementia.
We've included over 60 gift ideas so there is sure to be something here to suit your gift-giving needs.
This post contains affiliate links. As an Amazon Associate I earn from qualifying purchases.
Craft and Activity Gifts for People with Dementia
Crafts and favorite activities can be a wonderful way to encourage communication, fine motor skills, and creativity in dementia patients. Using crafts and activities is an important way to encourage cognitive and social engagement.
When choosing a gift for someone with dementia, it can be helpful to think about activities or hobbies that the person with dementia enjoyed in the past. How can a craft or activity gift be tailored to help them connect with their past?
Fishermen might enjoy a tackle box with different lures or flies that they can sort.
A former bank teller might enjoy sorting coins and bills (either real or from a board game).
Someone who loves classic cars might enjoy a puzzle or painting set featuring cars from the 50s and 60s.
Here are some craft and activity gift ideas for people with dementia:
Puzzles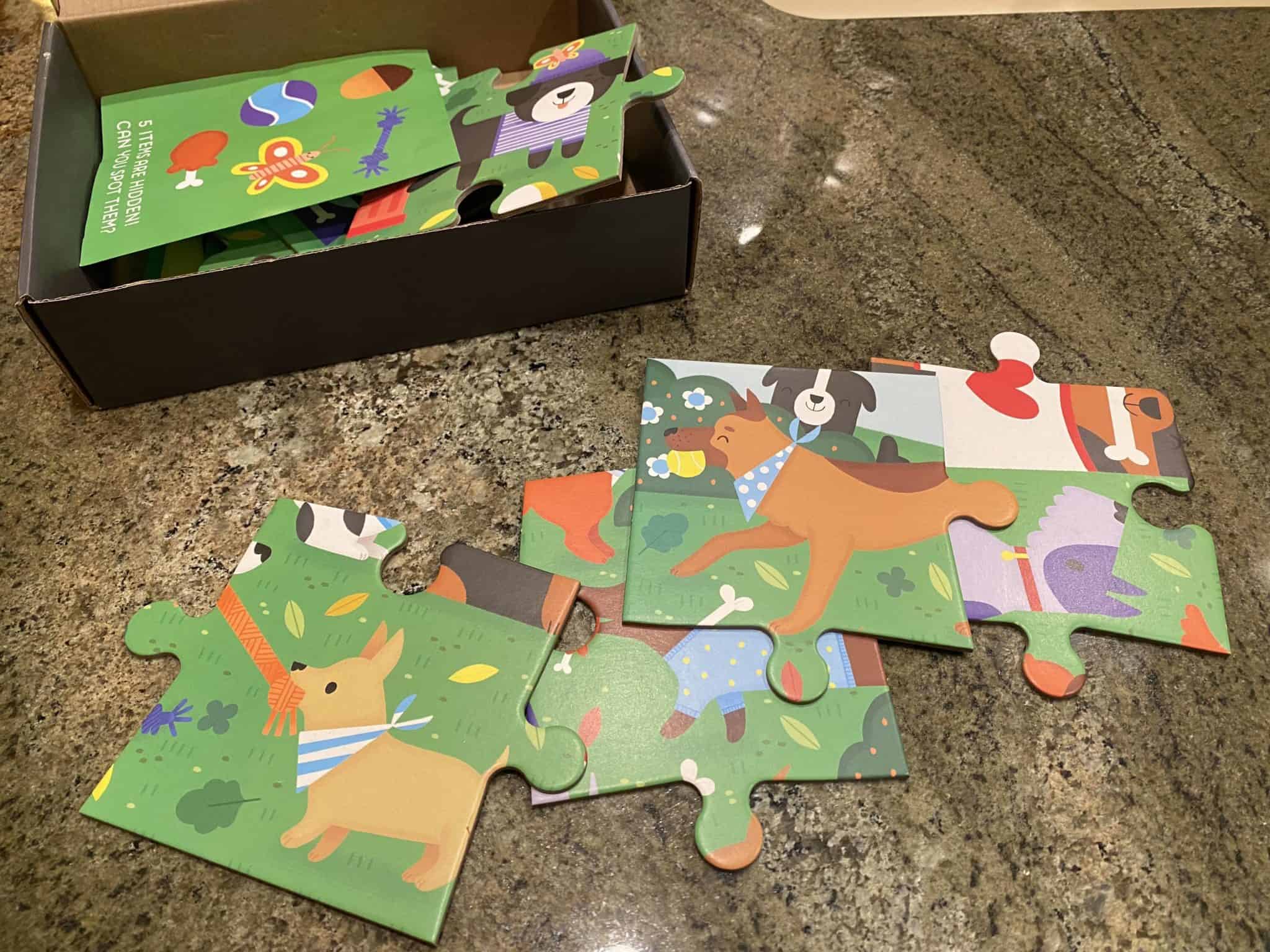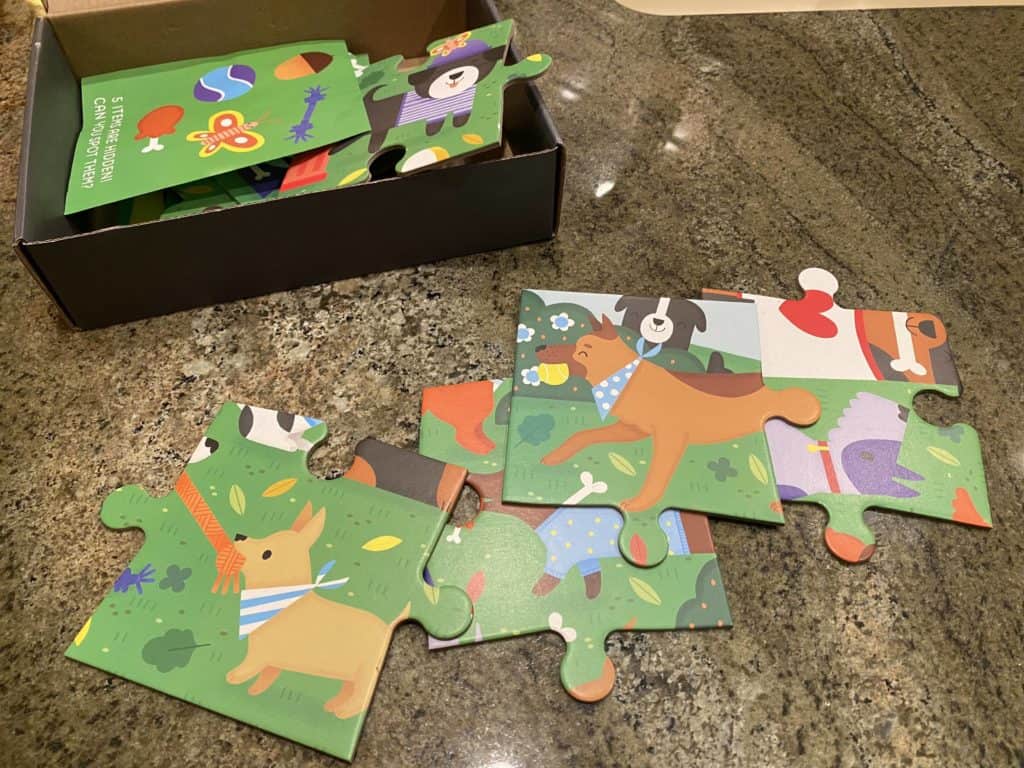 Puzzles that are appropriate for adults can be engaging and promote hand strength and hand-eye coordination. https://amzn.to/3uvQHMV
Tanagrams or pattern blocks help with dexterity and coordination. The pieces can also be used for sorting by shape and color which can help support cognitive skills.
Art Kits
These painting kits just require water and a brush. They are mess-free and can be used over and over again. Painting is great for creative expression, fine motor skills, and upper body strength.
Craft Kits
Craft kits are convenient and can be adapted to the ability level of the individual. This stained glass butterfly kit might appeal to a gardener or outdoor enthusiast
This kit allows one to build a wooden race car. The pieces are all included and can be painted or finished with a light coat of sealer such as modge podge.
Tools
This set of nuts and bolts or tools would make a great gift for someone who used to work in construction or was handy with household repairs. These gifts get bonus points for supporting fine motor skills and hand strength.
Cards
Conversation cards help get the conversation started without requiring memory of past events. This set would be a great addition to the kitchen table to generate meaningful conversation during snacks and meals.
Fidget Items
A fidget blanket is a wonderful gift for dementia patients who like to keep their hands busy. Busy blankets can have a calming effect which may help reduce unwanted dementia-related behaviors.
Dolls and Stuffed Animals
This stuffed animal is considered a therapy pet. These "toys" have been shown to have a calming effect on dementia patients as they provide sensory stimulation.
A therapy doll provides comfort and soothes agitation.
These interactive therapy pet dog provide the soothing benefit of tactile stimulation.
An interactive therapy pet cat is also available.
Fine Motor Fun
Lacing cards support hand dexterity and strength as well as hand-eye coordination. This gift would be great for a family member with dementia who enjoys sewing or hand crafts.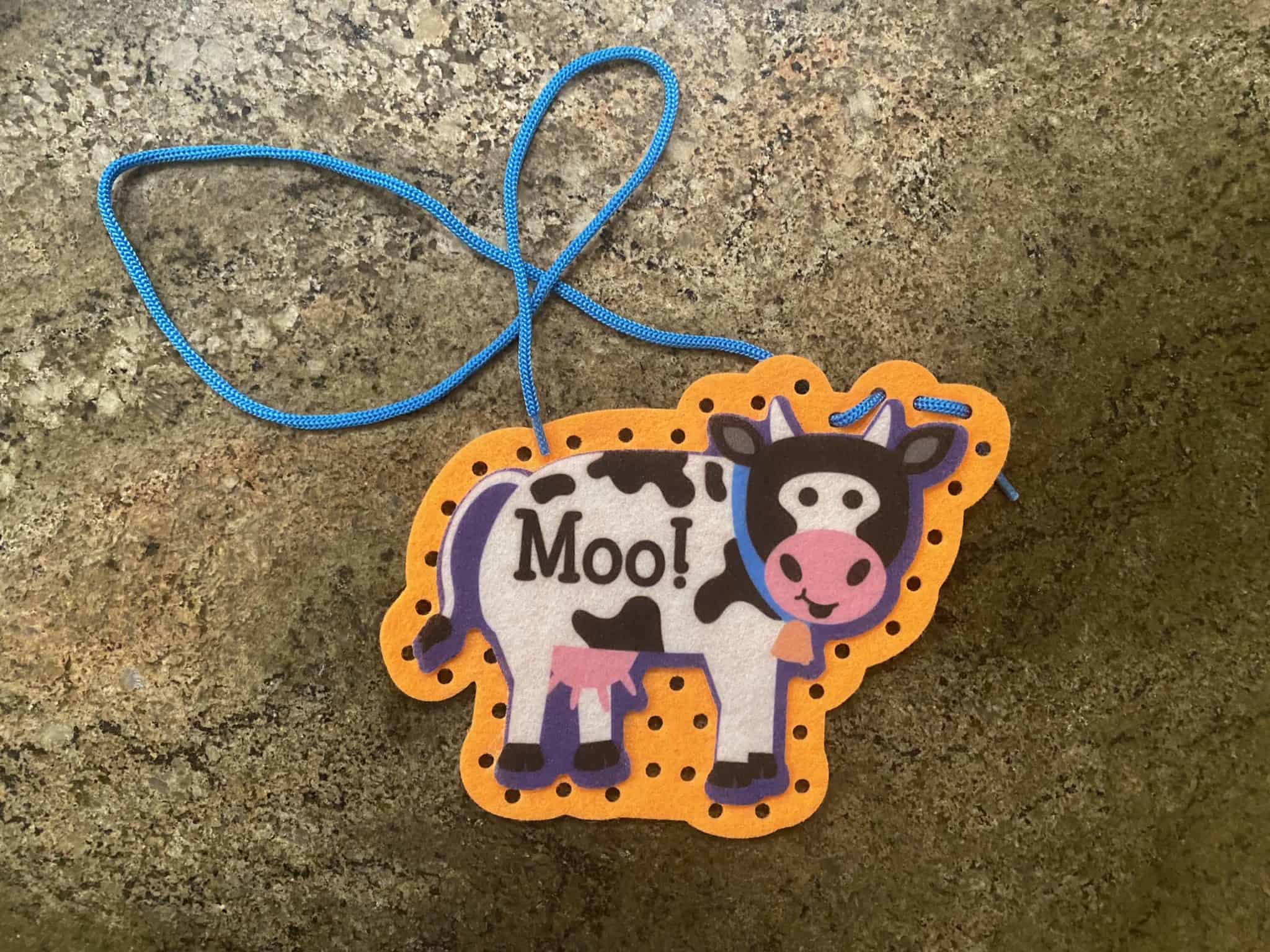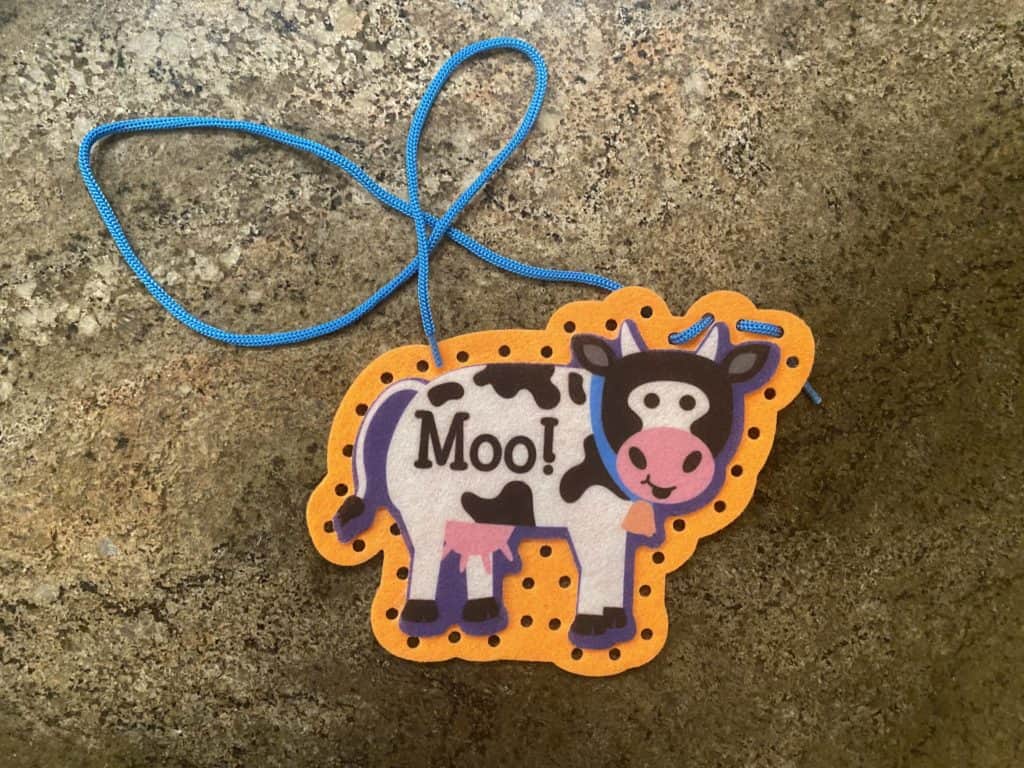 Gift Ideas to Promote Safety
Medicine Dispensers
Medicine dispensers can provide safety and independence with daily routines by supporting someone with early dementia to safely manage their medications.
There are a variety of models to choose from ranging from a common pill organizer to the more advanced automated pill dispensers that are programmed to dispense medications at the appropriate time.
Clocks
Day clocks can support orientation and independence. This clock is fully programmable with unlimited alarms and notifications. It can support personal photos, birthday reminders, medication reminders and more. It comes in two colors three sizes – great for those with reduced vision. The screen can be customized with a variety of display colors.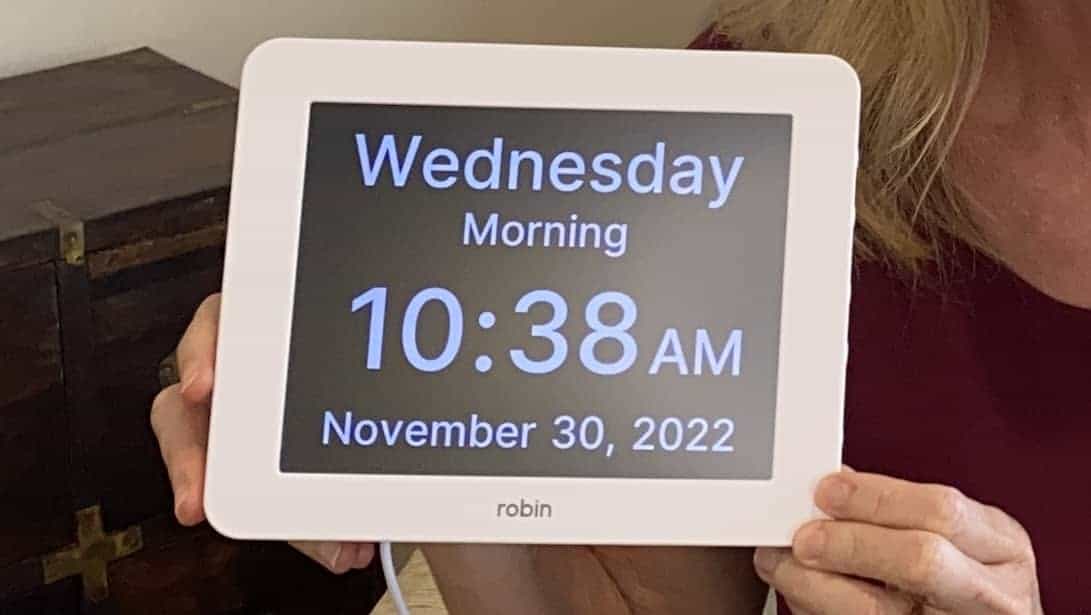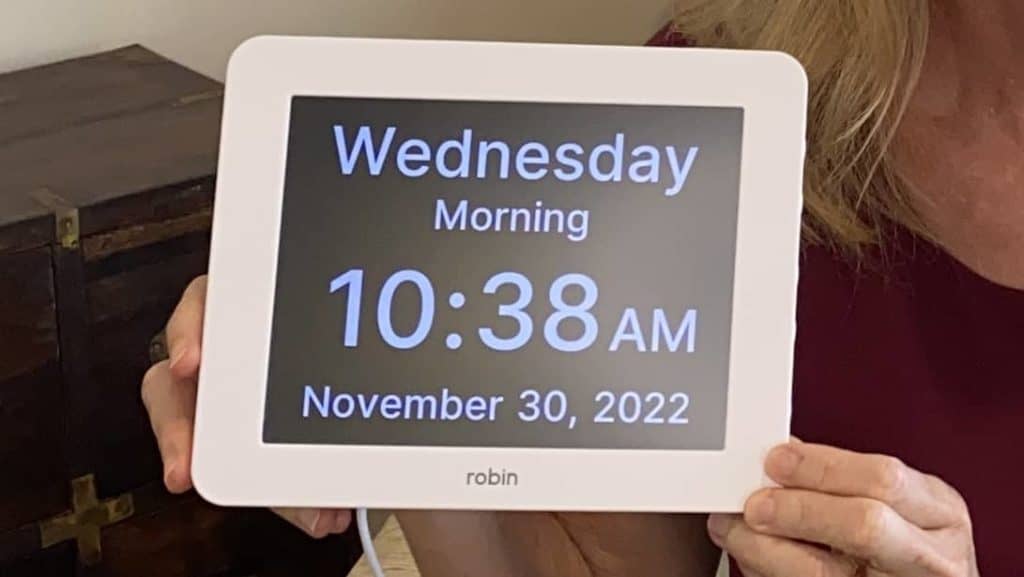 This model has 5 alarms and a large screen that displays the date and time to help with orientation.
Exit Deterrents
A door mural can improve safety and serve as a camouflage for exit doors https://amzn.to/3VO3Dtg
The door alarm will alert others in the home when the exit door has been opened. This item helps to improve safety for individuals who are prone to wandering outdoors.
Technology
The Echo Dot smart audio device provides day, time, weather, and music, simply speak a question and Alexa will answer. https://amzn.to/3F9S1Kl
Music is a wonderful way to help someone reconnect with their past. Memories of music and rhythm are stored in a part of the brain which is thought to be one of the last affected by dementia. Amazon music 30-day free trial https://amzn.to/3UEj3iN
For individuals with low vision, or difficulty with turning pages, audio books could be a lovely gift. This gift may not be suitable for individuals with moderate to severe dementia if they cannot maintain attention to the story line. Audible audio book gift membership https://amzn.to/3BfOt8f
MemoryPhone large button landline phone with photo dialing eliminates the need for remembering phone numbers. It's also an easy option for those who have a difficult time learning how to use a smartphone. https://amzn.to/3VTw7SZ
Raz Mobility Memory Loss Cell Phone is an amazing communication solution for people with dementia and their caregivers. It is simple to use and has built-in safety features. Caregivers can manage settings on the phone remotely via an app. Includes photo dialing, charging reminders, and blocking of unwanted incoming calls .https://www.razmobility.com/solutions/memory-cellphone/
This smart photo frame with instant photo-sharing app is a fun way to share photos of loved ones. It can be updated remotely with new photos, so caregivers who live at a distance can share photos easily. Using photos as conversation starters supports reminiscence and positive feelings. https://amzn.to/3VCURi3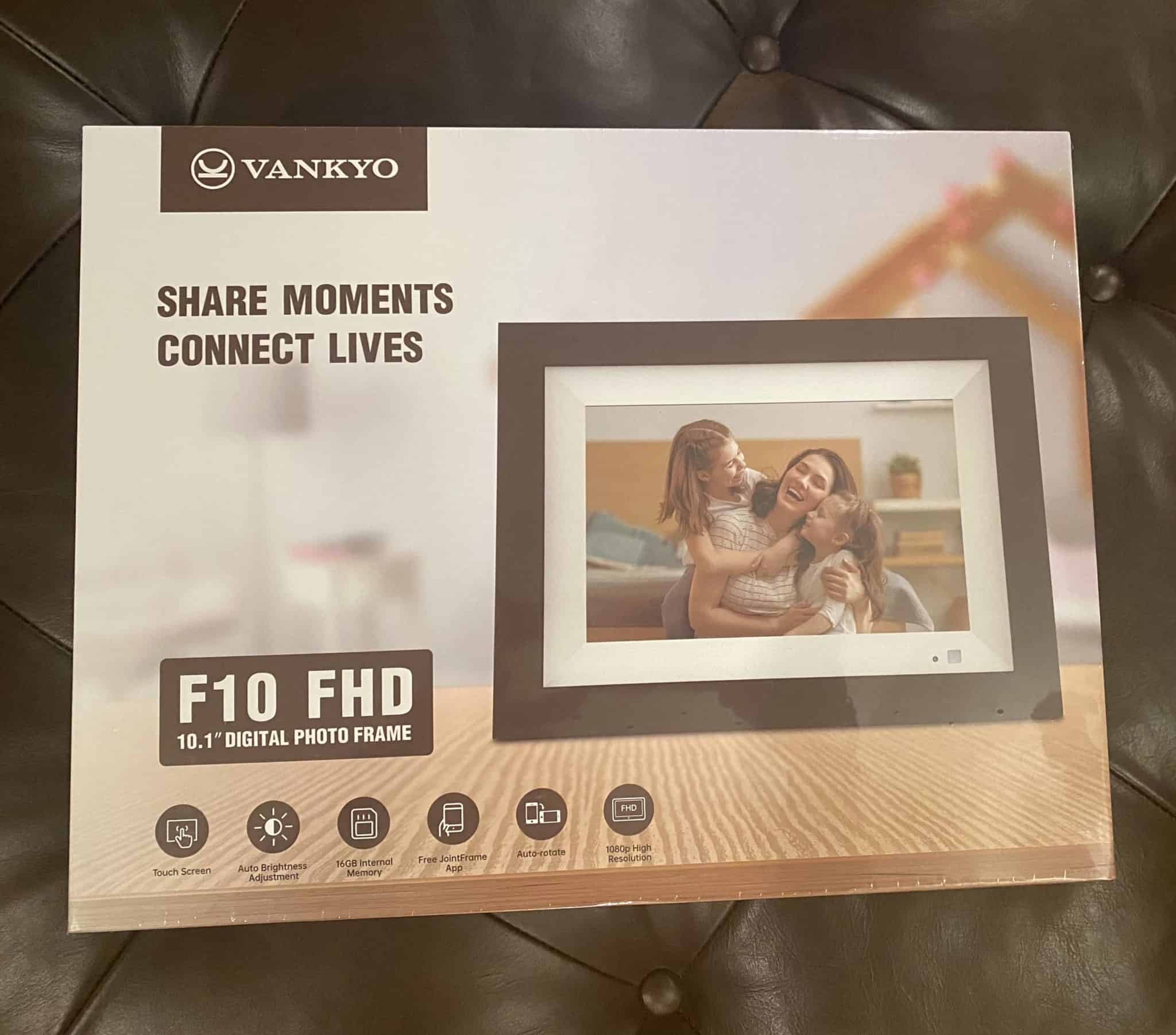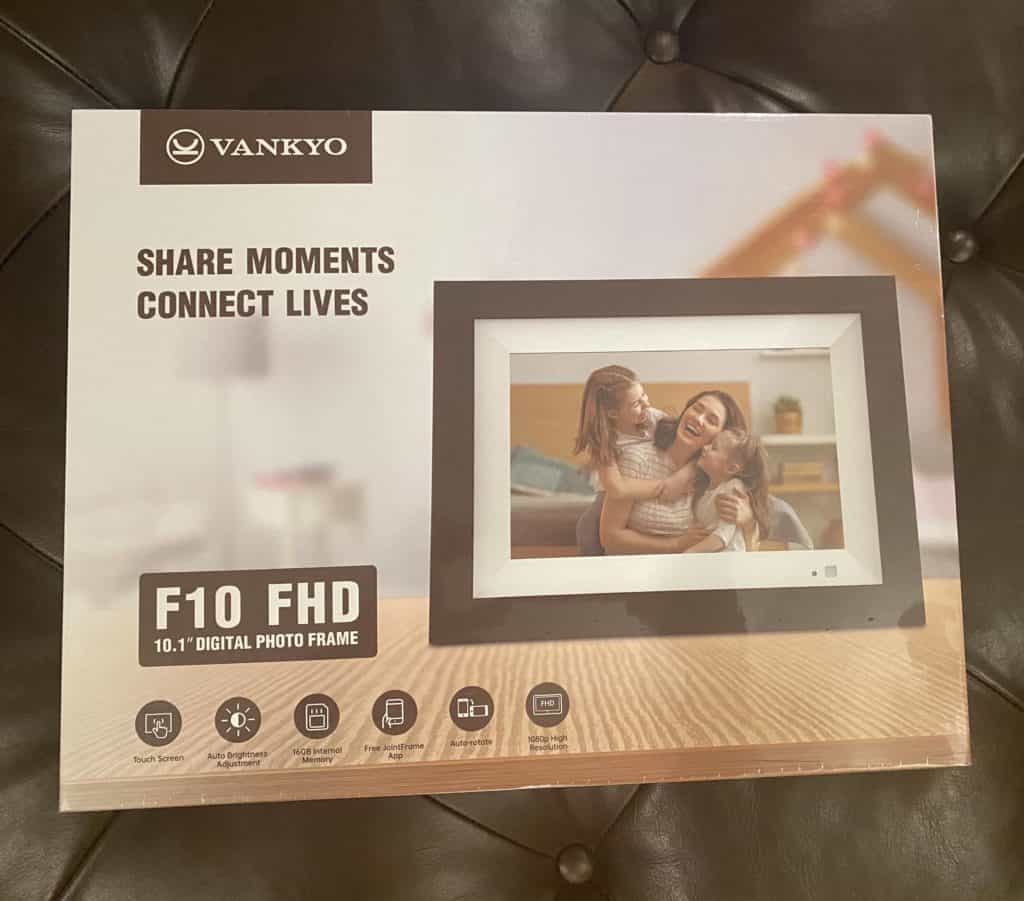 Sensory Gifts
A music and audiobook player with a nostalgic look can support reminiscence through the use of music. Use it to encourage social interaction by singing or dancing with the person with dementia. https://amzn.to/3F6ABOF
A weighted lap blanket can calm and soothe by providing input to the sensory system. Safety tip: be sure the choose a blanket that is no greater than 10% of the user's body weight and always supervise the individual when using the blanket. https://amzn.to/3HhMZ1a
Soothing sensory lights respond to touch. This is a great gift for someone who enjoys visual stimulation. Plus it might allow a break from television and the negative effects of the blue light TV emits. https://amzn.to/3Hj9VNC
Gifts to Support Activities of Daily Living
Dementia affects a person's ability to participate in daily activities that are the foundation of one's identity. Choosing a gift that allows the person with dementia to perform daily self-care activities is a wonderful way to promote safety and independence.
Dining
Contrasting placemats can help with attention and vision during mealtimes. Choose dark colors for light-colored tables and light-colored placemats for dark tables. Bonus points if you can place a contrasting plate on top of the placemat.
Foam handles slip over utensils or grooming items for those with reduced hand function making it easier to grip.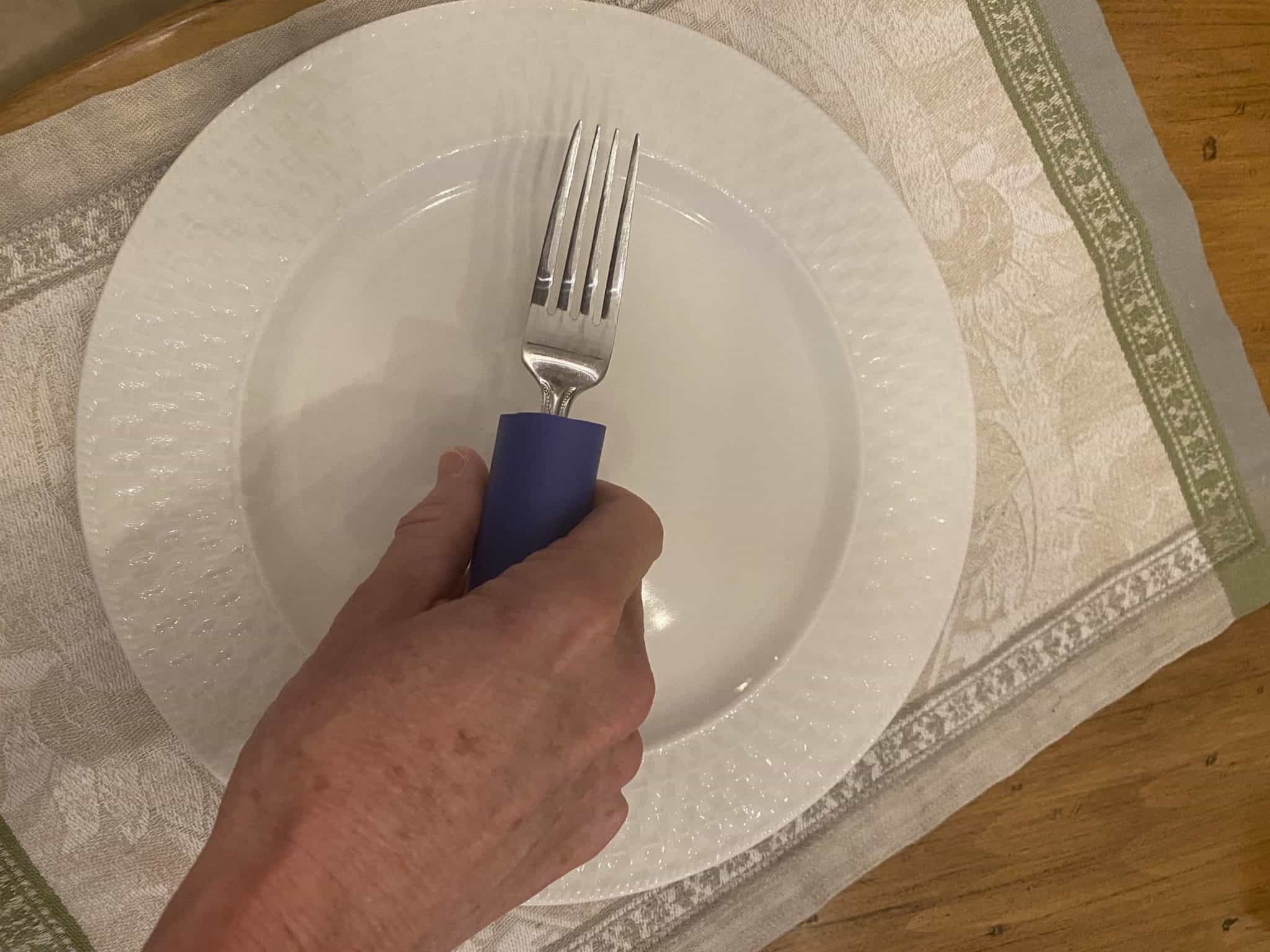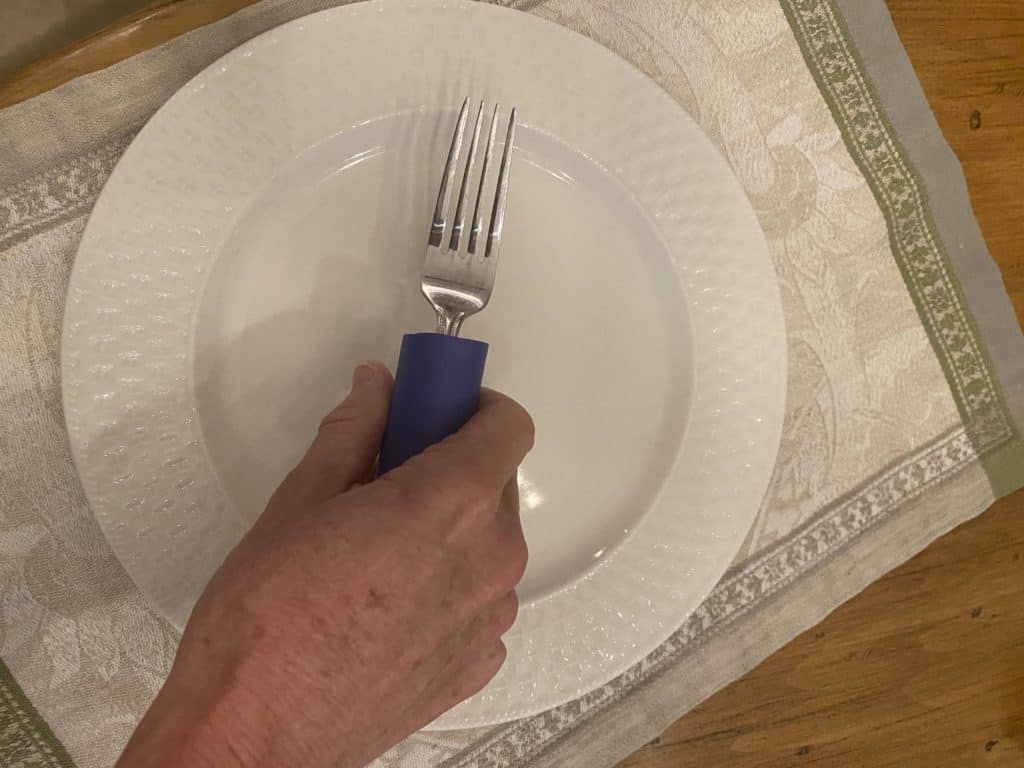 Adaptive drinkware can make it easier for individuals with limited mobility of shoulder, elbow, or neck to drink from a cup. This spillproof cup with handles and straw fits the bill.
An integrated easy-grip tumbler can make drinking from a cup easier for individuals with poor grip strength.
This nosey cup is designed to make drinking easier for those with limited neck mobility.
Dressing Gifts and Adaptive clothing
Adaptive clothing with magnetic fasteners are a great adaptation for reduced hand function. They can allow someone with poor dexterity to be able to dress without assistance.
Magnetic closure "zip" hoodie.
Nonslip socks are an essential safety item for those who prefer not to wear shoes indoors.
Kiziks slip-on sneakers for easy on and off with limited mobility or hand function. These shoes can help a dementia patient dress independently.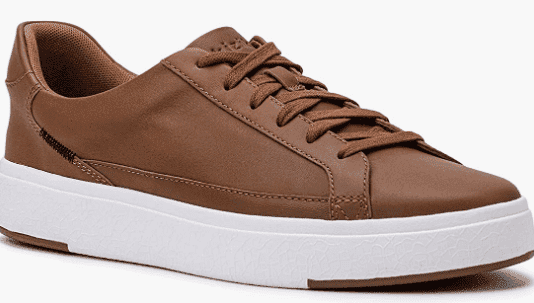 A reacher can help prevent falls and make life easier for those with limited mobility.
A dressing stick is a great gift idea for someone who has limited mobility. It is used to make it easier and safer to thread the legs into pants.
A long-handled shoehorn can be used to make it easier for someone with limited mobility or balance issues to get dressed independently.
A zipper pull and button hook can help someone with impaired hand function or weak hand strength get dressed without assistance.
Orientation
A custom photo blanket is a wonderful and personal gift that can include reminders of family members and fun times.
A dry-erase board helps with orientation and communication. Use it to post a daily schedule, reminders, or notes from family and friends.
Mobility Devices and Accessories
Devices to assist with mobility can improve safety and independence for an individual living with Alzheimer's disease or other dementias.
If you are unsure which device is most appropriate, check with a licensed physical or occupational therapist to determine the best device for your loved one.
A standard walker is used when the individual has good hand function and upper body strength. It can help improve safety when walking for those with poor strength and balance.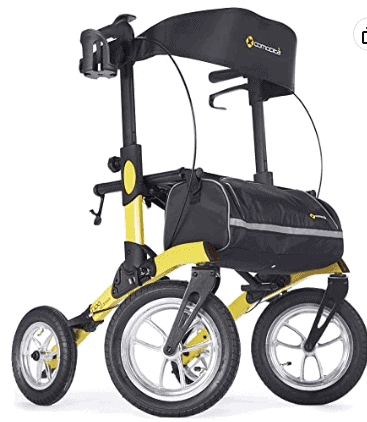 A rolling walker is used to improve safety for someone with good strength but mildly impaired balance.
A raised toilet seat can be helpful for those with back, hip or knee pain. This device makes it easier to get on and off the toilet.
An auto stander is great for ease when getting in/out of car. This device provides a secure and safe grip when exiting a vehicle. It is especially useful for those with poor hip strength when exiting a low seating surface.
A gait belt is used for assistance with safe transfers and walking for those with poor strength and balance.
The movable standing bar improves safety when transitioning from seated to standing. It operates by a tensioning device and can be moved to locations throughout the home.
Many older adults have a difficult time getting in and out of bed. This adjustable bed rail can be used to improve safety and ease of bed mobility.
Here are a few fun options for carrying necessary items while leaving hands free for mobility. Wheelchair/walker organizer bag
Grooming and Bathing Gifts
Bathing and grooming can be a challenge for a person living with dementia and their caregivers. Finding ways to reduce the stress associated with these tasks can help make daily routines easier. Check out these gift ideas related to bathing and grooming.
Cordless and rechargeable electric shaver for safety and independence with grooming.
A Plush bathrobe can make the task of bathing seem more relaxing.
A shower chair improves safety for individuals who become fatigued easily. It provides a safe place to sit during showering and reduces risk of falls. Combine the use of a shower chair with a handheld shower head to transform the bathing experience of someone you care for.
Handheld shower head for safety and ease when bathing. These are easy to install and greatly improve the ability of an individual to shower while seated in a shower chair or bench.
Grab bars are used to improve bathroom safety when toileting or bathing.
A nonslip shower mat is an essential safety tool for older adults to minimize risk of falls during bathing.
Many homes have tub showers that are difficult to older adults to climb into. Converting a tub into a walk-in shower can be quite costly. However, a tub transfer bench is an inexpensive option for safety and ease with tub showers.
Incontinence is a common problem for individuals with dementia and many older adults. A bed positioning pad that is washable and waterproof can make repositioning easier for the caregiver and patient. The waterproof fabric is easy to clean and can prevent the soiling of sheets.
Overreaching to pick up an item can result in a fall. Using a tray table for the bedside, wheelchair, or armchair can make it easier to reach necessary items for those with limited mobility.
Conclusion
I hope this list of the best gift ideas for older adults and those living with dementia has helped you find the perfect gift for your loved one with dementia.
I have included items related to safety, items that promote participation in daily activities, and items that bring enjoyment.
I would love to hear from you if you have found other items that have been useful in your caregiving journey. Simply fill out the contact form here to share your thoughts.